Stone Sour Announce New Spring Headline Tour Dates
With The Bronx, Palaye Royale and 68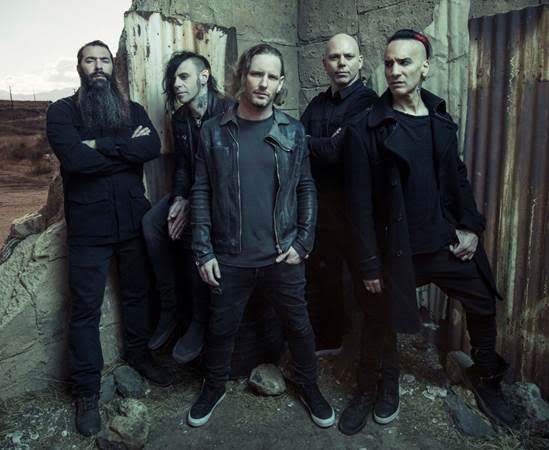 Internationally acclaimed rock band Stone Sour has announced new spring headline tour dates.  The trek features support from The Bronx, Palaye Royale and 68 on select dates and includes festival stops at Welcome To Rockville, Fort Rock, Carolina Rebellion and Lunatic Luau before wrapping up at Columbus, Ohio's Rock On The Range. Tickets for most dates will be available beginning March 2nd at 10am local time, with select dates available beginning March 9th. For complete details and ticket availability, please visit www.stonesour.com/tour.
HYDROGRAD, the new album from Stone Sour, rocketed onto the charts this past June, debuting at #1 on three Billboard charts: "Top Current Albums," "Top Rock Albums," and "Top Hard Rock Albums."  HYDROGRAD also debuted at #8 on the "Billboard 200," marking the band's fifth consecutive Top 10 debut on that chart.  Furthermore, HYDROGRAD debuted at #5 in the U.K. (the band's highest debut ever in that country), #2 in Australia (highest debut ever), and was Top 5 in Germany, Japan, and Switzerland.  The album features, "Rose Red Violent Blue (This Song Is Dumb & So Am I)," which broke into the Top 10 at Active Rock Radio, and the smash "Song #3", which was #1 for five straight weeks on U.S. Active Rock Radio chart.  For tour dates and more information on Stone Sour please visit www.stonesour.com.
Stone Sour unleashed their eponymous debut album in 2002 and was immediately confirmed as one of the most significant hard rock outfits of the 21stcentury. The self-titled release earned RIAA gold certification while singles "Get Inside" and "Inhale" each received GRAMMY® Award nominations for "Best Metal Performance."
COME WHAT(EVER) MAY followed in 2006 and proved an even greater accomplishment with a top 5 debut on the SoundScan/Billboard 200 and a #1 entry onto Billboard's "Rock Albums" chart. The acclaimed album spawned still another GRAMMY®-nominated single in "30/30-150" on its own way to RIAA gold certification.  COME WHAT(EVER) MAY unleashed a series of rock radio classics, including "Sillyworld," "Made of Scars," the #1 hit, "Through Glass," which spent seven weeks atop Billboard's "Hot Mainstream Rock Tracks" while also reaching #2 on "Alternative Songs" and the top 40 on the overall "Hot 100." The song's companion video was also a favorite, now with over 49 million individual views at YouTube alone.
Stone Sour's most recent all-original releases, the monumental HOUSE OF GOLD & BONES – PART 1 and HOUSE OF GOLD & BONES – PART 2, both made top 10 debuts on the SoundScan/Billboard 200 just six months apart from one another – the band's third and fourth consecutive top 10 chart entries. The two-part concept album yielded a string of multi-format rock radio hits, including the top 5 favorites "Absolute Zero," "Do Me A Favor," and "Tired," the latter of which ascended to #1 at Mainstream Rock outlets nationwide.
HOUSE OF GOLD & BONES drew widespread critical applause with ArtistDirect hailing "PART 1" as "a milestone for Stone Sour and for modern rock music. It's on par with Alice In Chains' 'DIRT,' Metallica's MASTER OF PUPPETS, Queens of the Stone Age's SONGS FOR THE DEAF, Soundgarden'sSUPERUNKNOWN, and any other game-changing albums you can think of." HOUSE OF GOLD & BONES – PART 2 earned equally great acclaim, including placement on Revolver's "Top 20 Albums of 2013" and Loudwire's "Top 10 Rock + Metal Albums of 2013" ranking. The Guardian, in its four-out-of-five starred rave, praised Stone Sour frontman Corey Taylor's "remarkable transformation into heavy music's premier polymath and renaissance man" while further hailing the album's "towering melodies and moments of radio-friendly majesty, the band's trademark straddling of the divide between metal and commercial rock sounding increasingly adroit."
2015 saw the arrival of STRAIGHT OUTTA BURBANK, an unprecedented EP in which Stone Sour take on five immortal songs originally performed by such iconic artists as Bad Brains, Iron Maiden, The Rolling Stones, Mötley Crüe, and Slayer. The EP is highlighted by a stunning rendition of The Rolling Stones' "Gimme Shelter" featuring distinctive guest vocals from Lzzy Hale of Atlantic recording group Halestorm, STRAIGHT OUTTA BURBANK is available now at all DSPs and streaming services.
Stone Sour is: Corey Taylor (vocals), Josh Rand (guitar), Roy Mayorga (drums), Johny Chow (bass), and Christian Martucci (guitar).
For additional news and information, please visit stonesour.com, facebook.com/stonesour, twitter.com/stonesour, youtube.com/stonesour, and roadrunnerrecords.com.
STONE SOUR
ON TOUR 2018
*Festival Performance
+ with Palaye Royale and 68
% with The Bronx and 68
APRIL
28           Jacksonville, FL                                  Welcome To Rockville*
29           Fort Meyers, FL                                                Fort Rock*
MAY
1              Atlanta, GA                                         Buckhead Theatre +
2              Nashville, TN                                      War Memorial Auditorium +
4              Concord, NC                                       Carolina Rebellion*
5              Virginia Beach, VA                           Lunatic Luau*
6              Stroudsburg, PA                               Sherman Theater +
8              Chattanooga, TN                              The Signal
9              Mobile, AL                                          Soul Kitchen %
11           Little Rock, AR                                   The Metroplex +
12           Oklahoma City, OK                          Diamond Ballroom +
15           Madison, WI                                      Orpheum Theater %
16           Fort Wayne, IN                                 The Clyde Theatre %
18           Peoria, IL                                             Peoria Riverfront*
19           Columbus, OH                                   Rock On The Range*