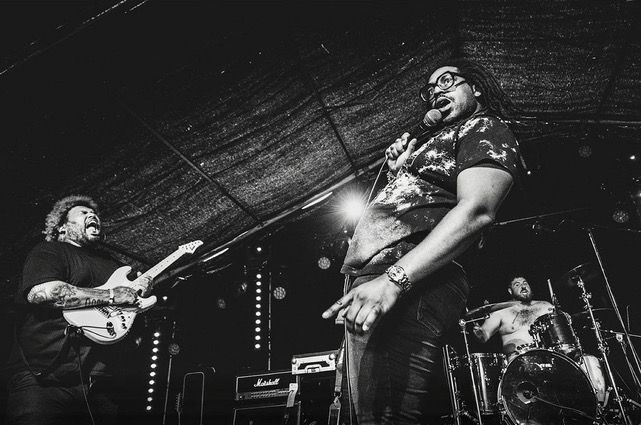 Philly hardcore experimental extremists Soul Glo share the new single "If I Speak (Shut The Fuck Up)", the band's first new music since 2022's breakthrough album, Diaspora Problems (Epitaph). The song arrives ahead of their co-headlining tour with Los Angeles band Zulu that kicks off this week in Denver, CO. Produced at Jamtown Studios in Philadelphia by GG Guerra with additional drum engineering by Evan Bernard, it was then mixed by Steve Evetts, and mastered by Alan Douches.
Diving into thrash-leaning hardcore punk, "If I Speak (Shut The Fuck Up)" is anchored by a trance-inducing beat with gritty, fuzzed out guitars enhancing the raw rage from within vocalist Pierce Jordan. He explains,
""If I Speak" is a song about channeling one's voice and perspective through art or another creative expression. You can hear when people spend more time online than on their music. You can tell when people are more focused on a visual statement than a sound."   
In addition to the new track, the band also shares an accompanying NSFW music video and its censored counterpart below:
Soul Glo's schedule has been non-stop since the release of their 2022 breakout record Diaspora Problems (Epitaph), from multiple runs in Europe and the UK to gracing the lineups of festivals such as Coachella, Pitchfork Fest and KEXP's The Thing Festival. Their songs confront the personal and the political with equal fury as vocalist Pierce Jordan howls about the inequities of the culture around him while offering a look at the conflict inside his head and heart. Fusing hip-hop, hardcore and punk, the Philly outfit are fearless in their approach and even more ruthless in their delivery, injecting their colorful narratives into predominantly white spaces. The overwhelming response to Diaspora Problems helped propel the band from respected underground status to landing top spots on the Best Albums of 2022 lists via Pitchfork, New York Times, NPR, Stereogum and more, with Rolling Stone crowning it #1 out of the year's metal releases.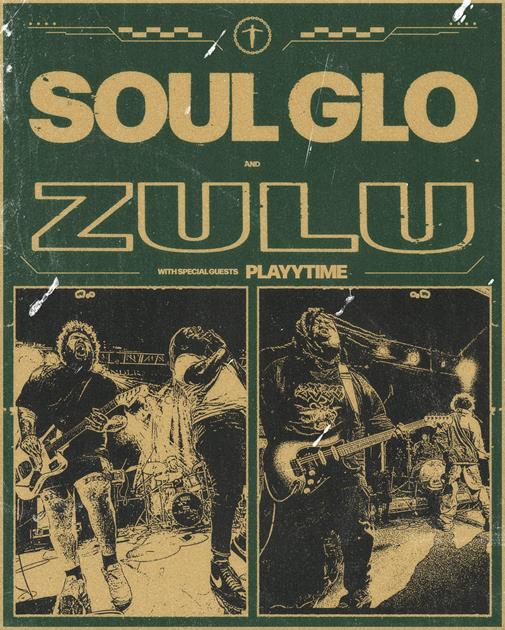 Soul Glo x Zulu Tour Dates – Tickets On Sale HERE
Sept. 3 – Cudahy, WI – X-Ray Arcade
Sept. 4 – Iowa City, IA – Gabe's
Sept. 5 – Omaha, NE – Reverb Lounge
Sept. 7 – Denver, CO – Marquis Theatre
Sept. 8 – Salt Lake City, UT – Kilby Court
Sept. 9 – Boise, ID – The Shredder
Sept. 10 – Seattle, WA – The Vera Project
Sept. 11 – Portland, OR – Hawthorne Theatre
Sept. 13 – San Francisco, CA – Neck Of The Woods *SOLD OUT
Sept. 14 – Santa Cruz, CA – Santa Cruz Vets Hall
Sept. 15 – Los Angeles, CA – The Roxy Theatre
Sept. 16 – Pomona, CA – The Glass House
Sept. 17 – Phoenix, AZ – Rebel Lounge
Sept. 19 – Austin, TX – The Parish
Sept. 20 – San Antonio, TX – Paper Tiger
Sept. 21 – Houston, TX – The Compound
Sept. 22 – New Orleans, LA – Toulouse Theatre
Sept. 25 – Memphis, TN – Growlers
Sept. 26 – Nashville, TN – Exit In
Sept. 27 – Atlanta, GA – The Masquerade
Sept. 28 – Durham, NC – Motorco Music Hall
Sept. 29 – Washington, DC – The Howard Theatre
Sept. 30 – Richmond, VA – The Canal Club
Oct. 1 – Philadelphia, PA – First Unitarian Church *SOLD OUT
Oct. 2 – Cambridge, MA – The Sinclair
10/03 Brooklyn, NY – The Meadows
Oct. 5 – Toronto, Canada – Velvet Underground
Oct. 6 – Detroit, MI – Tangent Gallery
Oct. 7 – Chicago, IL – Subterranean
Soul Glo Japan Tour
Oct. 26 – 下京区, 日本 磔磔
Oct. 27 – Osaka, Japan – Live House Anima
Oct. 28 – Nagoya, Japan – Shangri-La
Oct. 29 – Yokohoma, Japan – Yokohama B.B. Street
Oct. 31 – 渋谷区, 日本 – Club Quattro
Soul Glo is Pierce Jordan (vocals), GG Guerra (guitars), and TJ Stevenson (drums)
FOR MORE INFORMATION ON SOUL GLO, VISIT: