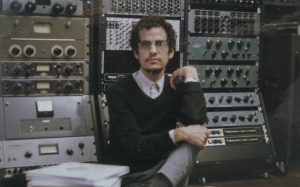 Only very few songwriters and arrangers have succeeded in leaving their mark on several generations with their compositions and their performances. Omar Rodríguez-López is one of these exceptional artists. His complete solo works from 2004-2024 will now be honored with an impressive vinyl box set.
Within 20 years, multi-instrumentalist and mastermind Omar Rodríguez-López released multiple solo records – on top of his works with The Mars Volta, At-The Drive In, Bosnian Rainbows, De Facto, and Antemasque. Pending somewhere between Jazz, Prog, Latin, Alternative, Electronica, and Classical Music, his music covers an impressively wide range of genres.
After celebrating the digital release of his entire oeuvre in May 2021, Rodríguez-López' Hamburg-based label Clouds Hill now takes the next step: These solo records will be made physically available for the first time in a unique vinyl box set. 57 albums, including records that have only been digitally available until now, and also two previously unreleased records. The collection contains highlights like the collaborative record with John Frusciante, the chaotic but beloved "Cryptomnesia", the more accessible "Solar Gambling" or a classic like the early "Se Dice Bisonte, No Bùfalo".
The box set is limited to 500 copies and is only available via www.cloudshillshop.com.
Pre-order starts on October 30th, release will be on December 4th: https://gtly.to/0DC4NcNty
Also, all records will be available for individual purchase in early 2024.
"Amor de Frances" comes in four individual, high-quality boxes in a classy design that work together as a whole: All 57 LPs of the box set combined with 2020's "The Clouds Hill Tapes Pt. 1-3″, the spines eventually create the silhouette of Rodríguez-López himself.
All records in this extraordinary collection are pressed on black, recycled vinyl. Most of the cover artworks were recreated as close as possible to the original releases, but some of the records have also been given a completely new design at Omar's personal request.
The encompassing box set with its four individual boxes, with colorfully designed banderoles, a set of nine art prints and 57 albums on 60 LPs will be available for 1.499€ / 1.599$.
AMOR DE FRANCES
+ Limited to 500 copies
+ Four pieced box set, split into four high-quality boxes with colorfully designed banderoles
+ 57 albums, pressed on recycled, black vinyl. Including
+ 2 previously unreleased records
+ 31 records released on vinyl for the first time
+ Recreated true to original, also with selected makeovers of cover artworks
+ Set of 9 art prints – sleeve can be replaced with 2020's "The Clouds Hill Tapes Pt. 1-3″ (not included), to complete the silhouette on the spines