Monster Energy Fort Rock
Festival Experiences Announced
Hosted by Jose Mangin from SiriusXM
South Florida's Biggest Rock Experience
Features Performances From
Ozzy Osbourne, Godsmack,
Five Finger Death Punch, Stone Sour, Shinedown, Breaking Benjamin & More
Saturday, April 28 & Sunday, April 29, 2018
At The Festival's New Home In Greater Fort Lauderdale
At Markham Park In Sunrise, FL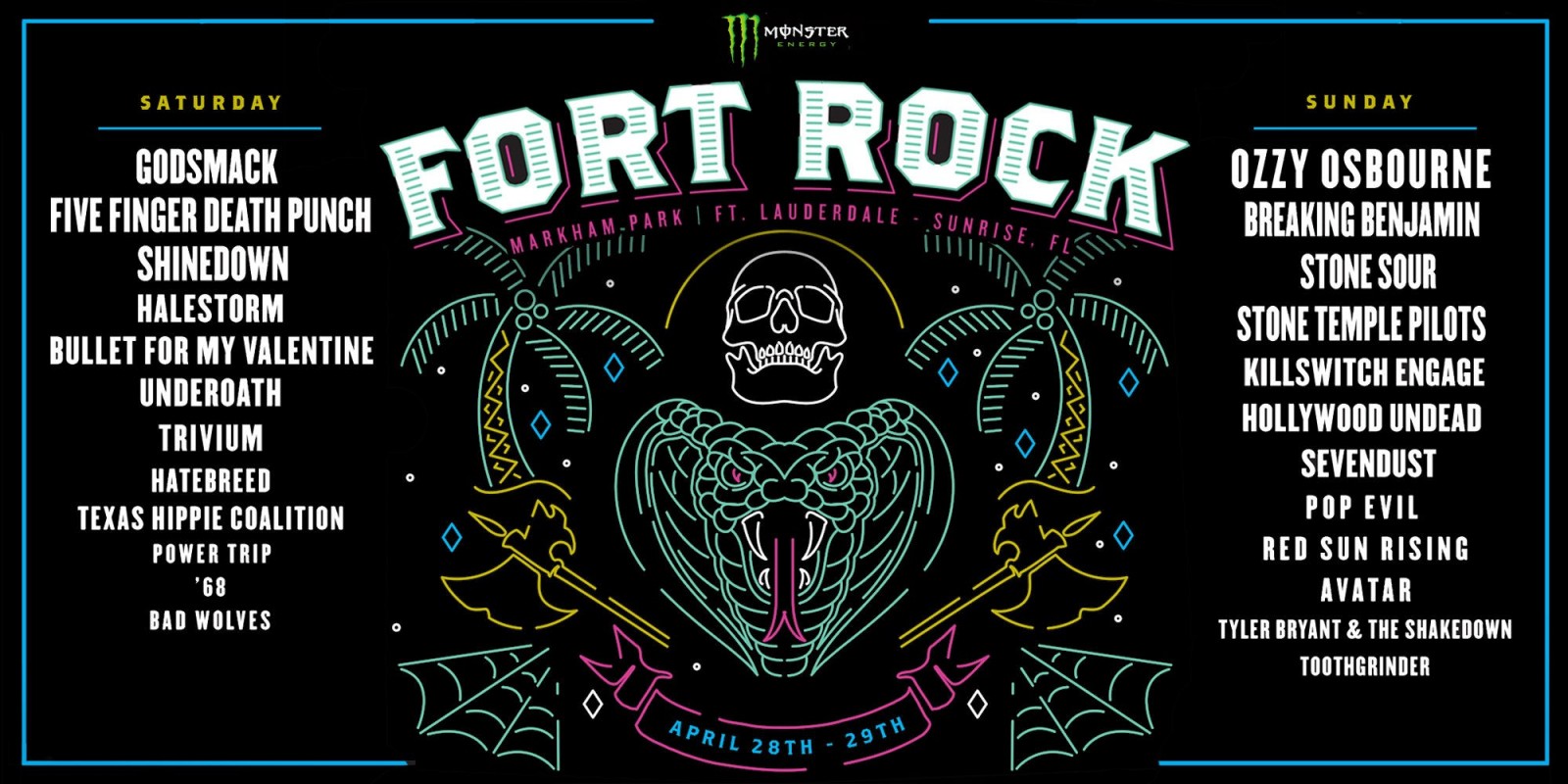 The lineup of festival experiences has been announced for the 6th annualMonster Energy Fort Rock festival in Sunrise, Florida.
Ozzy Osbourne, Godsmack, Five Finger Death Punch, Stone Sour, Shinedown, and Breaking Benjamin lead a powerful talent lineup for the 6th annual Monster Energy Fort Rock, Saturday, April 28 and Sunday, April 29, 2018. Monster Energy Fort Rock moves to its new home at Markham Park in Sunrise, Florida, in greater Fort Lauderdale, expanding its capacity and providing an enhanced festival experience. In association with the Greater Fort Lauderdale Convention and Visitors Bureau's Hello Sunny Underground Music program, South Florida's Biggest Rock Experience features rock's top artists performing on two stages during the 2-day festival.
The daily band lineup for Monster Energy Fort Rock is as follows (subject to change):
Saturday, April 28:
Godsmack, Five Finger Death Punch, Shinedown, Halestorm, Bullet For My Valentine, Underoath, Trivium, Hatebreed, Texas Hippie Coalition, Power Trip, '68, Bad Wolves
Sunday, April 29:
Ozzy Osbourne, Breaking Benjamin, Stone Sour, Stone Temple Pilots, Killswitch Engage, Hollywood Undead, Sevendust, Pop Evil, Red Sun Rising, Avatar, Tyler Bryant & The Shakedown, Toothgrinder
In addition to music, Monster Energy Fort Rock will offer multiple onsite sponsor, food and beverage experiences, including those listed below.
Monster Energy Fort Rock Food Experiences: Monster EnergyFort Rock will have various food and beverage offerings onsite and even provide some local flavor from the Fort Lauderdale area!Monster Energy Fort Rock will feature the following food selections:Agave Taco Bar, Angry Bird Grill, BC Taco Truck, Boot Scootin Burgers, Captain Nemo's Seafood, Funnel Cake Fantasy, Gouda Boys, Hard Rock Café, Island Noodles, Mac Attack, Mount Olympus, Taste and Tell Gina, Texas Taco Depot, Jammin Concessions, Phat Daddy's Creole, Strawberry Fields, Homeslice Pizza and more.
Monster Energy: Stop by the Monster viewing deck to refuel and meet some of your favorite Monster Energy Fort Rock artists! Monster Energy will be keeping attendees fueled up and ready to rock all weekend long. Enjoy Monster Energy drinks from their viewing deck, one of the best seats in house. Make sure to check back throughout the festival for a schedule of Monster Energy's interactive artist experiences.
Website: www.monsterenergy.com/us/en/music
Facebook: www.facebook.com/monsterenergy
Instagram: www.instagram.com/monsterenergy/
Twitter: https://twitter.com/monsterenergy
#monsterenergy #monstermusic
f.y.e.: f.y.e. will be hosting the ultimate fan & artist interactive experiences throughout the festival! f.y.e.  is the only place at the festival to get all your favorite band's music — and maybe even get to meet your favorite Fort Rock performer! Check back for updates on artist meet & greet and autograph signing sessions!
Facebook: facebook.com/FYE
Instagram: @officialFYEmusic
#unitedstatesofFYE
Liquivida Lounge: Liquivida Lounge is a wellness center specializing in nutrient IV therapy and age management solutions to help people feel young and healthy. Liquivida specializes in Vitamin IV solutions for energy, hangovers, dehydration, migraines, detoxification and much more! Make sure you stop by and refuel with Liquivida when you are at Fort Rock!
Facebook: http://facebook.com/liquividaLIVrenew
Instagram: @Liquivida_livrenew
http://liquividalounge.com
Florida Panthers: This year's Fort Rock features a Rock N Jock experience with the Florida Panthers and Fort Rock performing artistShinedown. Fans will have the opportunity to meet the band at Fort Rock and get a VIP experience provided by the Florida Panthers at the festival and at the 2018/2019 game of their choice (subject to blackout dates/playoffs). Head tohttp://www.thebbtcenterfanzone.com/fortrock for more details. #FlaPanthers
Website: https://www.nhl.com/panthers 
Facebook: https://www.facebook.com/Flapanthers/ 
Instagram: @flapanthers 
Twitter: @FlaPanthers
Love Hope Strength: Love Hope Strength, the world's leading Rock n Roll cancer charity, saves lives one concert at a time by hosting free bone marrow donor drives at concerts and festivals in an attempt to find life-saving marrow donors for cancer patients in need of transplants. A quick, simple cheek swab and single page contact form is all it takes to determine if you hold the cells necessary to save the life of a cancer, or other blood disorder, patient in need. Stop by the Love Hope Strength tent and #GETONTHELIST
#LoveHopeStrength
Website: https://www.lovehopestrength.org/
Facebook: www.facebook.com/lovehopestrength
Instagram: @LoveHopeStrengthFoundation
Twitter: @LHSF
General Admission and VIP tickets (including ticket bundle discounts), as well as hotel packages, are still on sale and can be purchased at FortRockFestival.com. General Admission ticket discounts are also available for active military through Monster Energy Fort Rock partner GovX (www.GovX.com).
No service fee general admission weekend tickets are also available at all f.y.e. stores in Florida (https://fortrockfestival.com/service-fee-free-tickets) and at Alligator Alley Harley Davidson (201 International Pkwy, Sunrise, FL 33325).
Markham Park is located at 16001 West State Rd. 84 in Sunrise, FL. Festival doors open at 11:00 AM daily and the show ends at 11:00 PM on Saturday and 10:00 PM on Sunday.
Monster Energy Fort Rock is produced by Danny Wimmer Presents and AEG Presents and is part of the World's Loudest Month concert series, which features the biggest names in rock music performing in six U.S. events in distinct atmospheres during five consecutive weekends in April and May of 2018.
Monster Energy Fort Rock is fueled by Monster Energy. Additional 2018 sponsors and partners include: f.y.e., Underground Lauderdale, Hello Sunny, Miller Lite, Gold Coast Beverage, Alligator Alley Harley Davidson, Liquivida Lounge, Roadrunner Records, Love Hope Strength and the Florida Panthers.
For more information on Monster Energy Fort Rock, visit: