LAS RAGEOUS Music Festival
Announces Updated Performance Lineup
Otherwise & New Years Day Join
A Perfect Circle, Five Finger Death Punch, Ghost, Judas Priest & more
Friday, April 20 & Saturday, April 21
At The Downtown Las Vegas Events Center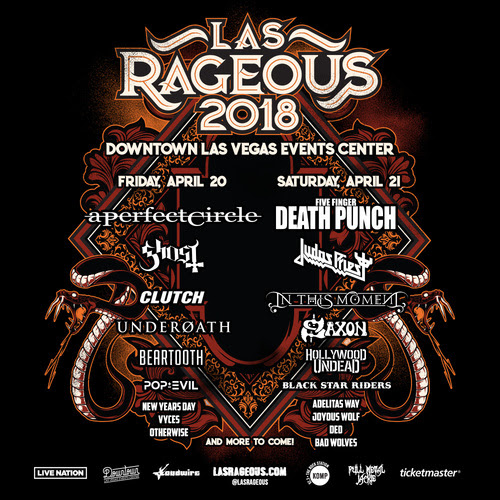 Sin City's premier rock and metal festival, Las Rageous, has released an updated performance lineup with the addition of hometown heroes Otherwise, along with goth-rock royalty New Years Day. Coming to the Downtown Las Vegas Events Center for its highly anticipated second year on Friday, April 20 and Saturday, April 21, the Live Nation-created music festival will take over two square blocks, in the heart of iconic downtown Las Vegas.
Otherwise and New Years Day join an already exciting lineup of both rock and metal icons and impressive newcomers. Festivalgoers can expect to hear fan favorites and possibly new music from Sin City mainstay and Saturday night headliner Five Finger Death Punch (who recently released their greatest hits album, A Decade Of Destruction), and an eclectic set from A Perfect Circle that may include their brand new song, "Disillusioned." Additionally, fans hope to hear new tracks from NWOBHM staple Judas Priest, legendary hard rock group Clutch, Pop Evil and Saxon, who all have albums set for release in the coming months. There will be memorable spectacles from In This Moment and Ghost; killer performances from Black Star Riders (featuring members of Thin Lizzy), masked rap rock kings Hollywood Undead, and DED, who just released a music video for their new single "Hate Me," along with music from metalcore heavyweights Underoath and Beartooth, Los Angeles breakouts VYCES and Bad Wolves, up-and-coming blues-rockers Joyous Wolf, and Vegas' own Adelitas Way.
Keeping up with Las Vegas' long history of birthing some of the  rock and metal genres' most impressive breakout acts– including Las Rageous performers Five Finger Death Punch, Otherwise and Adelitas Way— Las Rageous has teamed up with KOMP-FM and Smash Magazine to provide local bands the opportunity to open this year's festival. To enter in the 'Battle of the Fans,' bands must register before January 31 at http://ymlpsend6.com/mmbbaaaebwusafayjmapaeuhqb/click.php. The first round of dates will be held on March 9 and March 10, and finals will take place March 24 at Hard Rock Live, located on the Vegas strip. Rules and regulations can be found at http://ymlpsend6.com/mmbhaxaebwusatayjmalaeuhqb/click.php
With only 10,000 tickets available for purchase, Las Rageous offers the rare opportunity for fans to enjoy a festival experience in an intimate outdoor setting. Located just off Las Vegas Boulevard at Third and Carson Streets, Las Rageous will take over two city blocks of the historic downtown area. All ages are welcome and doors open at 4:00 p.m., with headliners taking the stage at approximately 10:00 p.m.
All tickets available for purchase are 2-day festival tickets for both Friday and Saturday. Two day festival tickets are currently available for $127 (plus fees). VIP tickets are also available starting at $366 (plus fees), and include private viewing from a platform and onsite parking.
Las Rageous is produced by Live Nation Las Vegas.