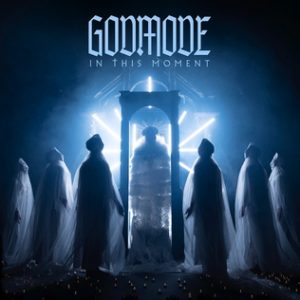 This is In This Moment making a soundtrack for The Matrix. That's not a negative either, the industrial influence is heard throughout Godmode and for the most part works well. Maria has a bit more personality and drive in Godmode than the previous album Mother, and the music has a bit more atmosphere. The energy in the music is gritty and dark. Those industrial elements along with some of the percussion and rhythm make for a good backbone. It's a front-loaded album and the repetition in style does wear on you around halfway. Compared to the rest of In This Moment's discography, Godmode stands out in a positive way. 7/10.
Best Tracks:
Godmode
The Purge
In This Moment Godmode Album Review
"In This Moment's eighth studio album, Godmode, was released on October 27, 2023, through BMG Rights Management. The album is a heavy, melodic, and atmospheric rock masterpiece that finds the band at their most creative and ambitious.
Godmode is a concept album that explores themes of empowerment, transcendence, and the search for inner strength. The album's title track is a soaring anthem about embracing one's inner power and becoming unstoppable.
Throughout Godmode, Maria Brink's vocals are simply stunning. She ranges from powerful and soaring to delicate and ethereal, perfectly capturing the album's wide range of emotions. The band's music is also top-notch, with heavy guitars, catchy melodies, and driving rhythms.
Godmode is a must-listen for any fan of rock music. It is a powerful and inspiring album that will stay with you long after you first hear it." (Google Bard)
___
In This Moment Godmode Album Review