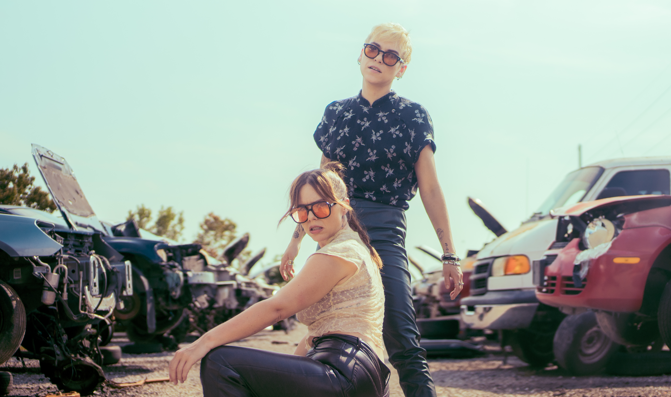 Bones UK have today dropped their new single "Ride" and the accompanying music video (via Sumerian Records). Speaking about the track, the band shared: 
"'RIDE' is a response to toxic masculinity and the pressure people feel to buy certain things or to look a certain way. No amount of money can buy cool or happiness. It's not about the size of the machine it's what you do with it, that ALWAYS counts.
So many people, men and women, live their lives thinking that the more they have, and the shinier and newer what they have is, the happier they will be. And the more fulfilled their lives will feel. For men the phrase, "bigger is better" is always being thrown about. And we wanted to turn all of those ideas on their head. Maybe it's less about "Big dick energy" and more about "Don't BE A DICK energy."
BONES UK are on a mission of intent. "We want our music to empower, to make you feel like you've found your home, your gang, your army," the London raised/LA based duo confidently assert. "We want to help you get out of bed in the morning – to be proud of every scar or beautiful imperfection, on or inside your body. We want our music to make you stand on your bed and scream "FUCK FITTING IN!"" Made up of vocalist Rosie Bones and virtuoso guitarist Carmen Vandenberg, the GRAMMY-nominated BONES UK don't waste a second of their self-titled debut album, confronting everything from the beauty industrial-complex to toxic masculinity and music-scene sexism; embedding each track with choruses primed for passionate shouting along.
Follow Bones UK:
Website | Facebook | Twitter | Instagram | Youtube