Black Label Society has debuted a brand new track titled "Trampled Down Below" from their brand new LP, Grimmest Hits, due out this month.
The single is the third song the band has made available to the public. Just last month the band released a "Room Of Nightmares" and "All That's Once Shined" music videos, both seen below.
"Trampled Down Below,"  "All That Once Shined," and "Room of Nightmares" are available as iTunes instant gratification tracks, meaning fans who pre-order the album on iTunes now will receive both songs as an instant download. The cover art and track listing can be seen below.
Black Label Society has launched into a hefty batch of North American tour dates spanning coast to coast in support of the all-new LP. Support will come from legendsCORROSION OF CONFORMITY on all dates. Select tour dates will see support fromEYEHATEGOD and RED FANG. A full list of tour dates can be seen below.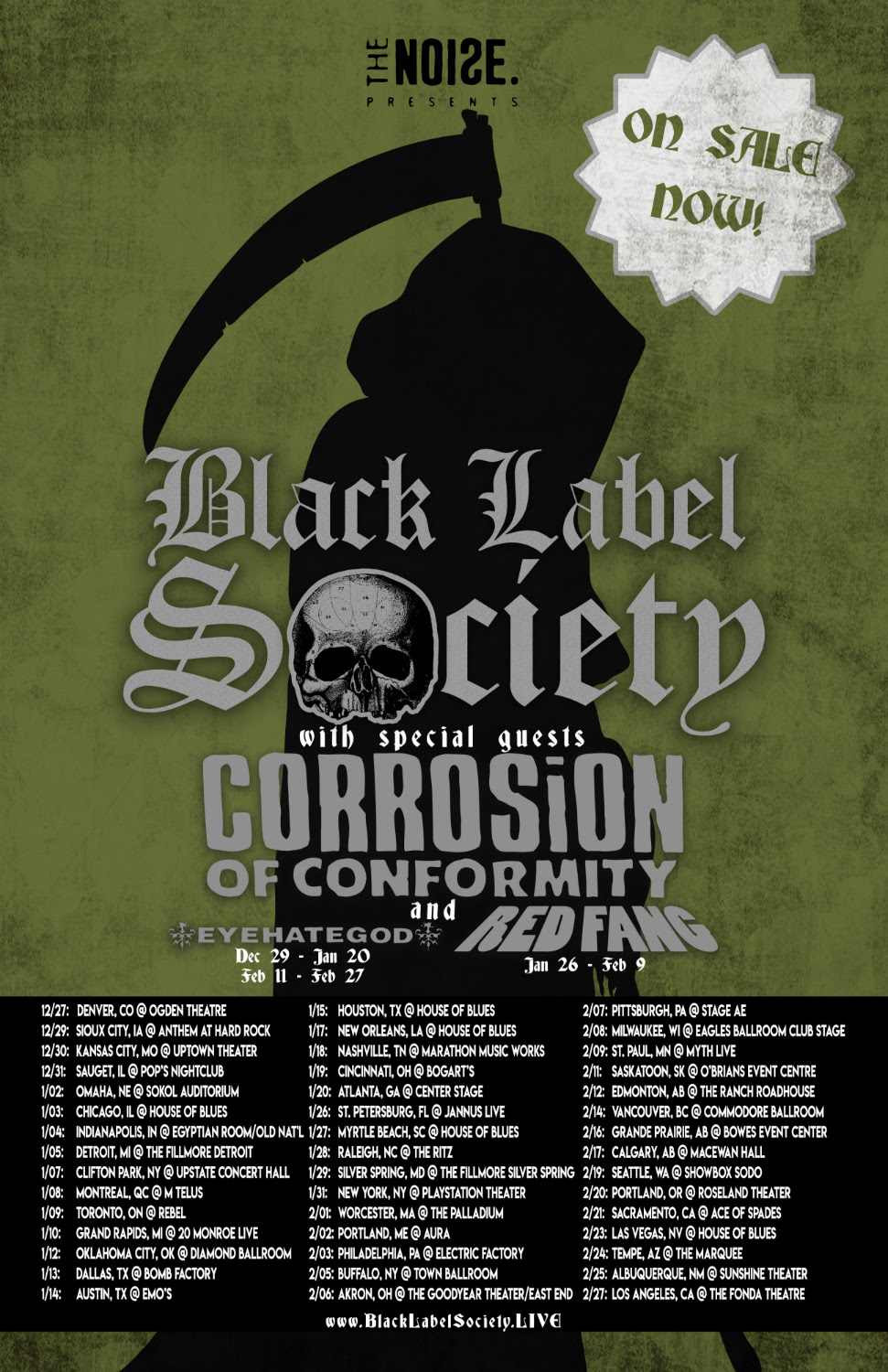 Black Label Society will release their tenth full length titled Grimmest Hits on January 19, 2018, via Entertainment One. The new effort will be the highly anticipated follow up to Billboard Top 5 charting titles Catacombs of the Black Vatican (2014) and Order of the Black (2010). In-between then and now, Zakk Wylde released Book of Shadows II, the long awaited follow up from his 1996 solo debut of the same name, which debuted at #18 on the Billboard Top 200 Chart.
Wylde, now reunited with Ozzy Osbourne after an eight year break, has played a handful of dates with whom he refers to as "the boss," with no signs of slowing down. The reunion kicked off over the summer with a highlighted performance at CHICAGO OPEN AIR with high profile festivals like LOUDER THAN LIFE and OZZFEST MEETS KNOTFEST on deck to close out the year.
One part invading horde and all parts traveling carnival party, Black Label Society traverses the world powered by caffeine and cacophony. BLS engages and inspires audiences everywhere they go, on every radio dial they burn, inviting all comers to join in and participate in their brotherhood and sisterhood of hard rock and vigor.
Now ten studio albums deep, with solo records, Ozzy shows, and Zakk Sabbath tours all kicking ass simultaneously, Black Label Society rides ever forward, fist held high.