BAD WOLVES' "ZOMBIE"
GOES #1 AROUND THE WORLD
THE AUDIENCE HAS SPOKEN:
AS BAD WOLVES' COVER ASCENDS TO THE TOP OF GLOBAL CHARTS
THE CRANBERRIES' ICONIC 1994 SINGLE REACHES A NEW GENERATION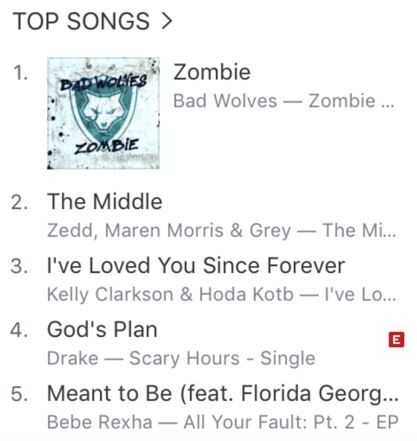 iTunes Global Chart Domination:
#1 US: #1 Rock, #1 Metal, #1 Overall
#1 UK: #1 Metal (5 Weeks), #1 Rock
#1 Canada: #1 Metal, #1 Rock, #4 Overall
#1 Ireland: #1 Rock and #1 Metal
#1 Germany: iTunes (2 Weeks), #1 Rock
#1 Austria: Metal, #2 Rock
#1 Belgium: #1 Metal
#1 Cyprus: #1 Rock
#1 France: #1 Metal
#1 Finland: #1 Metal
#1 Italy: #1 Metal (2 Weeks), #5 Rock
#1 Norway: #1 Metal
#1 Sweden: #1 Metal, #1 Rock
#1 Switzerland: #1 Metal (2 Weeks)
#1 Australia: #1 Metal, #1 Rock
#1 New Zealand: #1 Metal, #1 Rock
PLUS:
Spotify Viral Chart: #3 on the Global Top 50, #4 on US Top 50
Official Video: 14 Million across YouTube and Facebook
BAD WOLVES' DEBUT ALBUM DISOBEY FT. "ZOMBIE"
OUT MAY 18TH ON ELEVEN SEVEN MUSIC
"Bad Wolves' interpretation of "Zombie" is moody like the Cranberries', though the instrumentation sounds clearer and more cutting." – Rolling Stone
Monday, March 12 NEW YORK, NY — Topping charts worldwide this past weekend, Bad Wolves' cover of The Cranberries' "Zombie" has hit #1 in multiple countries around the globe. The track will appear on the band's debut album Disobey, coming out May 18th on Eleven Seven Music.
Stateside the song hit the trifecta, going #1 iTunes overall, rock, and metal. It also hit #1 Rock and #1 Metal on iTunes in The Cranberries' home country of Ireland, the UK, Canada, Sweden, New Zealand and Australia.
The global numbers are undeniable: the video has garnered more than 14 Million views in 18 days across YouTube and Facebook, and the track has gone #3 on Spotify's Viral Global Top 50 and #4 on Spotify's Viral US Top 50.
The unstoppable hit single was first released by The Cranberries in 1994, the original track hit #1 across the globe, including the Billboard Alternative Songs Chart. The song returned to the Top-Ten on the US Rock Charts shortly after news of Dolores O'Riordan's passing earlier this year.
O'Riordan was slated to record vocals for Bad Wolves' cover of the track (which she described as "killer") on the day of her passing. The band decided to release the song in her honor with all Bad Wolves' proceeds going to her children.
As a new generation discovers "Zombie" thanks to Bad Wolves, the track shows itself as a timeless hit with staying power that reaches across the ages.
Bad Wolves will tour extensively in 2018. Dates below, with more TBA.
Bad Wolves Tour Dates
Supporting Five Finger Death Punch + Shinedown
* FFDP and Bad Wolves Only
May 6 – Bridgestone Arena – Nashville, TN
May 8 – Rupp Arena – Lexington, KY
May 10 – BOK Center – Tulsa, OK
May 11 – Westfair Amphitheatre – Council Bluffs, IA
May 12 – Eagles Ballroom – Milwaukee, WI *
May 14 – Salem Civic Center – Salem, VA
May 16 – Legacy Arena – Birmingham, AL
May 17 – Ford Center- Evansville, IN
May 18 – Mark of the Quad – Moline, IL
May 20 – Alerus Center – Grand Forks, ND
May 30 – Casper Events Center – Casper, WY *
4/20 – UFEST 2018 – Mesa, AZ
4/21 – Las Rageous – Las Vegas, NV
4/27 – Welcome to Rockville – Jacksonville, FL
4/28 – Fort Rock Festival – Fort Lauderdale, FL