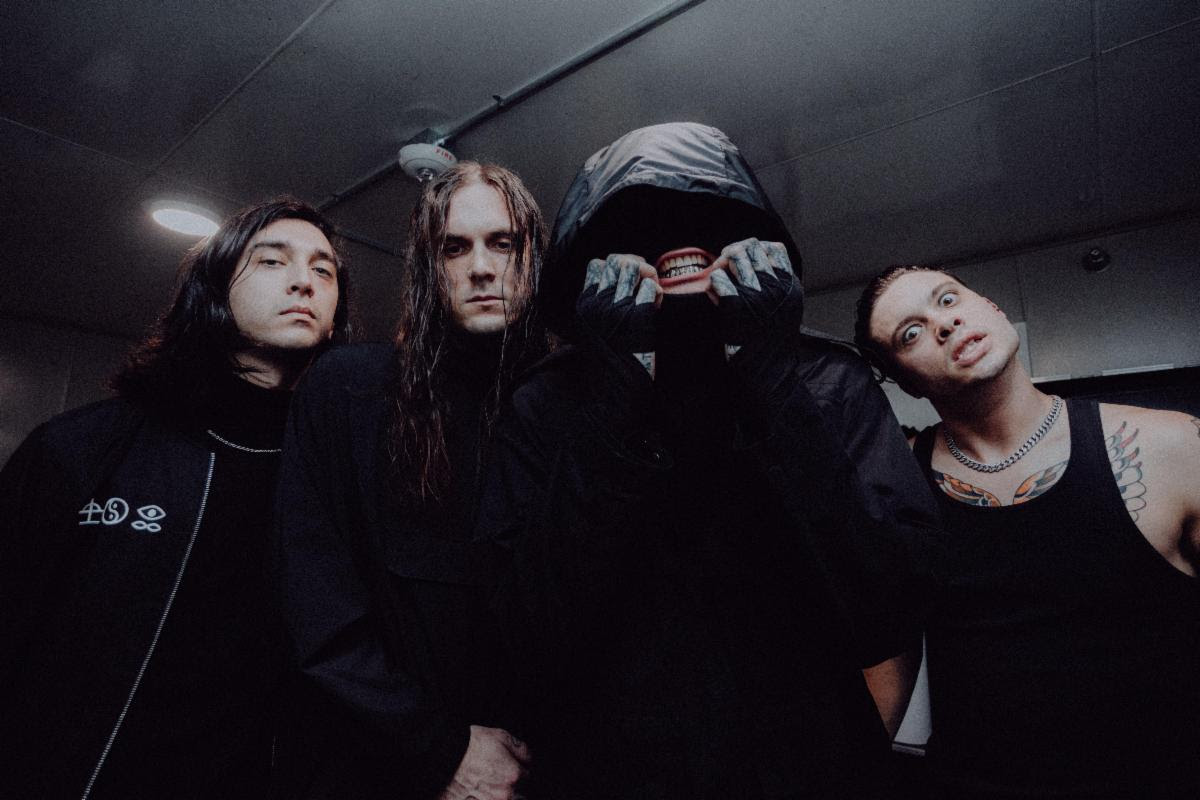 In an electrifying feat, Los Angeles-based rock sensation Bad Omens continues to dominate the airwaves with their RIAA-certified Gold single "Just Pretend" claiming the coveted #1 position on the Alternative Radio chart after having already achieved the #1 spot at Rock Radio earlier this March. Off the band's phenomenal latest album 'THE DEATH OF PEACE OF MIND' (out via Sumerian Records), "Just Pretend" has nearly 100,000 spins from radio overall between all formats, and taken on a life of its own after claiming the #1 spots on Billboard's Hot Hard Rock Songs for 20 weeks and Hard Rock Digital Song Sales charts as well as climbing Spotify's Viral 50 playlists in the US, Canada, UK, and Australia amongst others. Directed by Erik Rojas (Chase Atlantic, Jessie J, Waterparks), the official music video was based on a story written by Bad Omens vocalist Noah Sebastian which has amassed over 6.4 million views on YouTube and a staggering 190 million streams across DSPs with no signs of slowing. Furthermore, the band's titular album title track "THE DEATH OF PEACE OF MIND" is currently climbing the Top 5 at Rock Radio. Speaking about the news, Sumerian Group Owner and CEO Ash Avildsen commented:
"Brilliant songwriting with an undeniable work ethic and creative tenacity has proven that an act this young can go #1 at both formats while being on a fully independent label. This is a huge moment for all artists part of the genre's new era as well as all our peer indie labels who have stayed in the fight and not sold their brand to the majors."
Listen to "Just Pretend" here and watch the music video below.
Fans can catch the band live beginning this week on their nearly sold-out headlining tour CONCRETE FOREVER (with ERRA and I See Stars as support). For ticket information please click here.
CONCRETE FOREVER North American Dates
September 1 – Houston, TX @ Bayou Music Center (Sold Out)
September 2 – Austin, TX @ Stubb's Waller Creek Amphitheater (Sold Out)
September 4 – New Orleans, LA @ Joy Theater (Sold Out)
September 5 – St. Petersburg, FL @ Jannus Live (Sold Out)
September 6 – Orlando, FL @ House of Blues (Sold Out)
September 8 – Atlanta, GA @ Coca-Cola Roxy (Sold Out)
September 9 – Nashville, TN @ Marathon Music Works (Sold Out)
September 12 – New York, NY @ Terminal 5 (Sold Out)
September 13 – Philadelphia, PA @ Franklin Music Hall (Sold Out)
September 14 – Pittsburgh, PA @ Stage AE (Sold Out)
September 15 – Silver Spring, MD @ The Fillmore (Sold Out)
September 16 – Boston, MA @ Roadrunner (Sold Out)
September 18 – Montreal, QC @ MTELUS (Sold Out)
September 19 – Toronto, ON @ Rebel (Sold Out)
September 21 – Chicago, IL @ The Salt Shed (Sold Out)
September 24 – Columbus, OH @ KEMBA Live! (Sold Out)
September 26 – Milwaukee, WI @ The Eagles Ballroom (Sold Out)
September 27 – Minneapolis, MN @ Myth Live (Sold Out)
September 29 – Denver, CO @ Fillmore Auditorium (Sold Out)
September 30 – Salt Lake City, UT @ The Union (Sold Out)
October 2 – Portland, OR @ Crystal Ballroom (Sold Out)
October 3 – Vancouver, BC @ Vogue Theatre (Sold Out)
October 4 – Seattle, WA @ Showbox SoDo (Sold Out)
October 8 – Los Angeles, CA @ Hollywood Palladium (Sold Out)
October 9 – Las Vegas, NV @ The Theater at Virgin Hotels
October 10 – Tempe, AZ @ Marquee Theatre (Sold Out)
October 11 – Albuquerque, NM @ Revel (Sold Out)
October 13 – Dallas, TX @ The Factory in Deep Ellum (Sold Out)
Fall Festival Dates
September 10 – Alton, VA @ Blue Ridge Rock Festival
September 22 – Louisville, KY @ Louder Than Life
October 6 – Sacramento, CA @ Aftershock
Bad Omens recently announced their new comic book series "Concrete Jungle" (via Sumerian Comics). Co-written by Noah Sebastian and Kevin Roditeli ("Freak Show") and illustrated by Nicola Izzo, the four-issue monthly series will be available for purchase in stores starting next week on Wednesday, September 6. Be sure to keep an eye out for limited edition bundles later in the year and for further information, please click here.
Bad Omens slither through boundaries, only to ultimately choke convention in the process. The quartet—Noah Sebastian (vocals), Joakim "Jolly" Karlsson (guitar), Nick Ruffilo (bass), and Nick Folio (drums)—materialize with ghostly atmospherics, striking hooks, and the tingles of sensual high-register harmonies uplifted by cinematic production. Racking up over 250M worldwide streams to date and earning acclaim, the band presents an uncompromising and undeniable vision on their third full-length album, 'THE DEATH OF PEACE OF MIND' (Sumerian Records).
"Making the record changed us as songwriters and musicians. In many ways, I feel like it set me free as an artist because every decision made in the writing process was for myself, with no fear for anyone else's expectations of what our third album should sound like. Be it our fans or our record label."
They've always wielded this level of magic though…
The group's 2016 self-titled debut, 'Bad Omens', yielded fan favorites such as "Glass Houses" and "The Worst In Me" which eclipsed 43 million Spotify streams. On its heels, 2019's 'Finding God Before God Finds Me' spawned "Dethrone" (32 million Spotify streams) and "Careful What You Wish For". Along the way, they toured with numerous marquee acts and received tastemaker praise.
After their first headline tour was canceled mid-way at the top of the global pandemic, the band found themselves at home in Los Angeles with plenty of time. Where they absorbed and imparted a different palette of unexpected inspirations. Channeling what the frontman describes at times as a "cursive sound" they embraced newfound confidence and boundlessly loose creativity. Anything went in the studio, and all "rules" were broken. Noah and Jolly wrote, produced, and engineered the music themselves while GRAMMY® Award-nominated producer and songwriter Zakk Cervini (Halsey, Grimes, Poppy, blink-182) lent his talents with the mix and master. Challenging himself, Noah decided to "make a track sampling items around the house, none of which were musical instruments".
This ultimately became the framework for the first single "THE DEATH OF PEACE OF MIND". Claps puncture the icy soundscape as his voice stretches from a breathy moan into an evocative and entrancing hook, breaking from a whisper into the seductive chant, "It wasn't hard to realize. Love's the death of peace of mind." It culminates on a climactic scream uplifted by a distorted crunch.
"The whole record really details the loss of peace of mind," he explains. "The lyrics in the title track are a little more specific in terms of the conflict at the heart of something more intimate and personal."
By speaking it aloud, Bad Omens offer a level of comfort and empathy, with a sinister shroud. At the same time, they also give rock music a sexy new shape on 'THE DEATH OF PEACE OF MIND'.
"Sonically, we want to do something you can't arrive late or early too," he leaves off. "You can't cheat your way to the final act. You have to get on the ride and process it until the end. The songs are meant to be heard from start to finish. We want you to take the whole trip with us."