2018 Vans Warped Tour®, Presented by Journeys® Lineup Revealed
Brings Together Friends From Throughout The Years
Including Reel Big Fish, Bowling For Soup, The Used, Frank Turner, 
All Time Low, Simple Plan, Taking Back Sunday, The Maine, Waterparks, The Interrupters, ISSUES, 
SUM 41, Tonight Alive, Knuckle Puck, 3OH!3, and more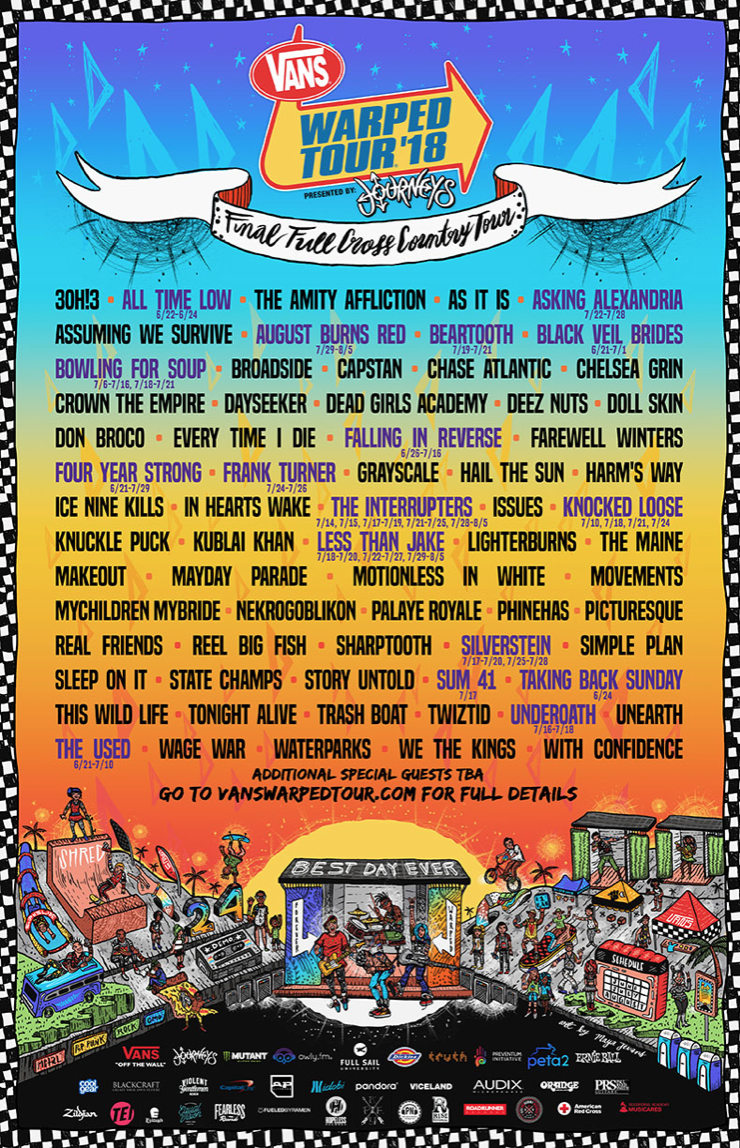 Super Fan Bundles On Sale Now
General Admission Tickets on Sale Thursday, March 8th
It was previously shared that this would be the final cross-country run for the tour, now in its 24th year. On the upcoming shows, founder Kevin Lyman has shared: "I truly am happy to get the chance to travel around the country one more time to thank you for your support, and bring you another best day ever."
For its final run, the tour is thrilled to welcome back countless bands who have rocked Vans Warped Tour over the last 24 years including Reel Big Fish, Simple Plan, All Time Low, Four Year Strong, 3OH!3, Less Than Jake, Underoath, We The Kings, The Used, Tonight Alive and more. Adding to this year's lineup are up-and-coming acts such as State Champs, Trash Boat, Don Broco, Grayscale, Waterparks, Real Friends, and Movements.
Also returning this summer are the newly named Mutant Red Dawn and Mutant White Lightning stages, showcasing the best in heavy and hardcore music: Chelsea Grin, MYCHILDREN MY BRIDE, Every Time I Die, Knocked Loose, The Amity Affliction, Ice Nine Kills, etc.
The 38-date tour will commence June 21st in Pomona, CA and end on August 5th in West Palm, FL.
2018 Vans Warped Tour Line Up – Confirmed Performance Dates for each band and stage:
Journeys Left Foot Stage
3OH!3 (6/21-8/5)
Asking Alexandria (7/22-7/28)
Beartooth (7/19-7/21)
Bowling For Soup (7/6-7/16, 7/18-7/21)
Frank Turner (7/24-7/26)
The Interrupters (7/14, 7/15, 7/17-7/19, 7/21-7/25, 7/28-8/5)
Knuckle Puck (6/21-8/5)
Mayday Parade (6/21-8/5)
Reel Big Fish (6/21-8/5)
State Champs (6/21-8/5)
SUM 41 (7/17)
Taking Back Sunday (6/24)
This Wild Life (6/21-8/5)
Waterparks (6/21-8/5)
Journeys Right Foot Stage
All Time Low(6/22-6/24)
Falling In Reverse (6/26-7/16)
Four Year Strong (6/21-7/29)
ISSUES (6/21-8/5)
Less Than Jake (7/18-7/20, 7/22-7/27, 7/29-8/5)
Movements (6/21-8/5)
Real Friends (6/21-8/5)
Simple Plan (6/21-8/5)
The Maine (6/21-8/5)
The Used (6/21-7/10)
Tonight Alive(6/21-8/5)
We The Kings (6/21-8/5)
Mutant Red Dawn Stage
Chelsea Grin(6/21-8/5)
Deez Nuts (6/21-8/5)
Ice Nine Kills(6/21-8/5)
Kublai Kahn (6/21-8/5)
MYCHILDREN MYBRIDE (6/21-8/5)
Sharptooth (6/21-8/5)
Silverstein (7/17-7/20, 7/25-7/28)
The Amity Affliction (6/21-8/5)
Twiztid (6/21-8/5)
Wage War (6/21-8/5)
Mutant White Lightning Stage
August Burns Red (7/29-8/5)
Crown The Empire (6/21-8/5)
Dayseeker (6/21-8/5)
Every Time I Die (6/21-8/5)
Hail The Sun(6/21-8/5)
Harm's Way (6/21-7/23)
In Hearts Wake (6/21-8/5)
Knocked Loose (7/10, 7/18, 7/21, 7/24)
Motionless In White(6/21-8/5)
Nekrogoblikon (6/21-8/5)
Underoath (7/16-7/18)
Unearth (6/21-8/5)
Owly.fm Stage
As It Is (6/21-8/5)
Assuming We Survive (6/21-8/5)
Broadside (7/10-8/5)
Capstan (7/10-8/5)
Chase Atlantic (6/21-7/31)
Dead Girls Academy (6/21-7/8)
Doll Skin (6/21-8/5)
Don Broco (6/21-8/5)
Grayscale (6/21-8/5)
Makeout (6/21-8/5)
Palaye Royale (6/21-8/5)
Phinehas (6/21-7/8)
Picturesque (6/21-7/8)
Sleep On It (7/10-8/5)
Story Untold(6/21-8/5)
Trash Boat (6/21-8/5)
With Confidence (6/21-8/5)
Full Sail Stage 
Farewell Winters (6/21-8/5)
Lighterburns(6/21-8/5)
VANS WARPED TOUR DATES:
Regular general admission tickets go on sale March 8th
6.21 POMONA, CA
6.22 SAN DIEGO, CA
6.23 MOUNTAIN VIEW, CA
6.24 VENTURA, CA
6.28 PHOENIX, AZ
6.29 LAS VEGAS, NV
6.30 SALT LAKE CITY, UT
7.01 DENVER, CO
7.03 ST. LOUIS, MO
7.05 BONNER SPRINGS, KS
7.06 DALLAS, TX
7.07 SAN ANTONIO, TX
7.08 HOUSTON, TX
7.10 NASHVILLE, TN
7.12 VIRGINIA BEACH, VA
7.13 CAMDEN, NJ
7.14 HOLMDEL, NJ
7.15 HARTFORD, CT
7.16 PITTSBURGH, PA
7.17 TORONTO, ON
7.18 CUYAHOGA FALLS, OH
7.19 CINCINNATI, OH
7.20 DETROIT, MI
7.21 CHICAGO, IL
7.22 MINNEAPOLIS, MN
7.23 MILWAUKEE, WI
7.24 INDIANAPOLIS, IN
7.25 DARIEN CENTER, NY
7.26 SCRANTON, PA
7.27 MANSFIELD, MA
7.28 WANTAGH, NY
7.29 COLUMBIA, MD
7.30 CHARLOTTE, NC
7.31 ATLANTA, GA
8.02 JACKSONVILLE, FL
8.03 ORLANDO, FL
8.04 TAMPA, FL
8.05 WEST PALM BEACH, FL
About Vans Warped Tour:
The Vans Warped Tour, presented by Journeys, is well known as America's longest running touring music festival of the summer. Since 1995, the tour has been a showcase for both established and up and coming talent, across a wide range of eclectic sub-genres.
The tour has also cemented its place in history by bringing alternative rock and skate culture from the underground to the forefront of global youth culture, while at the same time helping those in need through non-profit and eco initiatives.
Alternative Press readers voted the Vans Warped Tour as the "Best Tour/Festival" and Rolling Stone called it "America's Most Successful Festival."